Eleuthera: Leader Profile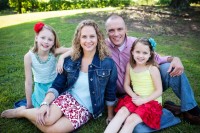 The Doster Family are Grace Church's missionaries in the Bahamas. Keith, Lori, Sarah (10), and Emory (8) are missionaries with Caribbean Ministries Association. They will arrive on the island of Eleuthera on February 1.
The Doster's will be continuing the work of the Fastzkie family over the past 10 years. They will focus on leadership development, working with youth, job creation and pastol training. Keith brings a background from the YMCA and has extensive experience both with youth development and leadership development. The Doster's had their first experience on Eleuthera with a Grace Church high-school mission trip in 2010. Since then, they have felt God moving and directing them to serve as long-term missionaries on the island. In addition, they will host short term missions teams throughout the Summer and Culturally Engaged Training Camp teams from Grace Church throughout the year.
For more information or to financially support the Doster Family, check out their blog!
Video K3mztrm28SI?rel=0 not found