Kenya

Join me in my prayer for Africa: "May the Lord, our God, bless Africa and raise her to what she should be and do, towards Quality Kingdom Growth and Kingdom Advance, both within and beyond. AMEN!".  –Bernard Kabaru Mwangi

Our Mission
Develop the local church and train national pastors to lead their communities toward biblical restoration.
What We Do
Grace Church has come alongside the local church in Kenya through pastoral training, economic development, medical camps, and leadership development. All this has been done to strengthen the local church through holistic ministry.
Our partnership with Bernard Kabaru and the Springs of Kenya Africa (SOKA) has given Grace an opportunity to work with an organization that shares our vision – making mature disciples of Christ and equipping people for a life of spiritual passion.
Grace sends 4 teams to Kenya each year that are focused on pastoral teaching, church leadership training, and medical care. These teams have served alongside members of local churches and pastors.Our goal in Kenya is to expand our partnership with Bernard and SOKA through partnering with local churches, training pastors and leaders, and equipping the church of Kenya to address the needs of its people. Our opportunities for service in Kenya align well with our strengths as a church – biblical teaching and training as well as serving through hands-on ministry by providing basic life needs.
KENYA | AT A GLANCE

 Kenya is located in East Africa and is home to 41 million people and ten distinct ethnic groups. The population of Kenya is incredibly young, with 42% of the population under the age of 14 and 55% of the population between the ages of 15-64. Many people speak Swahili and English, as well as their native ethnic language. The majority of the population professes Christianity, while other religions present include Baha'i, Hinduism, Islam, and traditional African religions.

For more information check out CIA Wold Fact Book
---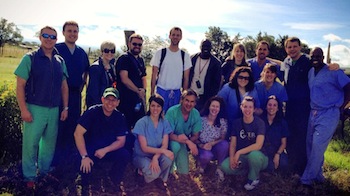 How You Can Be a Part
You can consider joining a Grace short-term trip to Kenya, become an advocate with our OVC Kenya program, or give financially to the work being done in Kenya.
As in Nicaragua, serving our Kenyan partners in this way enhances the relational equity that is so vital to our long-term success in the country.
Short Term Teams | Frequently Asked Questions